MPRL-1 Trident
Production information
Manufacturer
Model

MPRL-1

Type
Cost

Unknown

Technical specifications
Size

Large

Damage Per Hit

Very High

Magazine Size

6

Maximum Ammunition

18 (3 clips)

Ammunition Type

HEAT round

Operation

Trigger

Muzzle Velocity

Subsonic

Accuracy

Perfect (no COF)

Range

Infinite

Usage
Era(s)
Counterpart
Counterweapon(s)
Affiliation
[Source]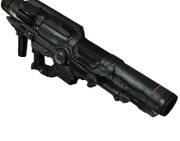 The MPRL-1 Trident is the standard issue missile launcher of USIF Armored Infantry.
The MPRL-1 was issued to 8th Armored Infantry Division soldiers and other Armored Infantry troops after the success of the USIF Powered Assault Armor program as a means to combat the ever increasing threat of enemy combat vehicles. Because of its battlefield success, this weapon was reverse-engineered by the Arm of Orion during the Outer Rim War.
Immediately following the Outer Rim War and the crushing defeat of the Arm of Orion, the USIF issued a newer model of the Trident to all Armored Infantry troops.
The launcher features a retractable fore-grip, a bottom mounted shoulder cushion, and side placed vents for cooling purposes. While the heat exhaust would burn an unarmored trooper's face, the helmets integrated into the powered armor renders the heat completely harmless to an Armored Infantry soldier.
This highly advanced weapon carries its ammunition inside a small cylindrical tube, rather than firing a fragmentation warhead. Each missile carries a miniature shaped-charge HEAT (High-Explosive Anti-Tank) round. Though each HEAT round appears to be the size of a mere pistol or assault rifle bullet, only a foolish opponent would underestimate the power of the ammunition. Upon impact, each HEAT round creates an explosion that creates a directional jet of superheated metal that burns through all known armor. Because the round is directional, the explosion generated by the round is minimized against small shielded and armored infantry targets, but the focused explosion is devastating even against shielded tanks and aircraft.
Newer models retain the same basic features of the older Trident model, but feature a few aesthetic changes as well as more damaging HEAT rounds, giving the newer models greater hitting power per shot than its predecessor. However, the more damaging HEAT rounds also take up more space in the weapon's revolver clips, giving the newer Trident model only six shots per clip, compared to the older model's eight shots per clip.
The Trident has the ability to fire missiles at a faster rate than most rocket launchers found in other games. The fact that it can also hold eight rounds in one clip makes it a very effective weapon when coupled with the jump pack, as skillful maneuvering can give a player a higher chance of hitting a target or the ground surrounding it. A recommended tactic would be the use of a "flying lock-on and shooting" method, which would give a high chance of direct impact.